Verken Mallorca met een huurauto
Dompel je onder in Spaanse sferen op het zonovergoten eiland Mallorca. Genieten van Spaanse tapas, authentieke straatjes en zonnebaden op prachtige stranden. Ook feestgangers kunnen hun hart hier ophalen. Op Mallorca is enorm veel te zien en te doen. De beste en meest snelle manier om niets van dit eiland te hoeven missen is door een auto te huren. Met wie ga jij toeren?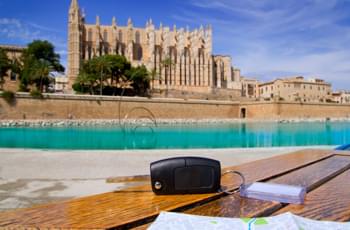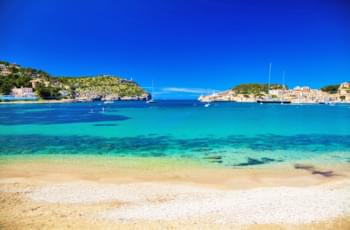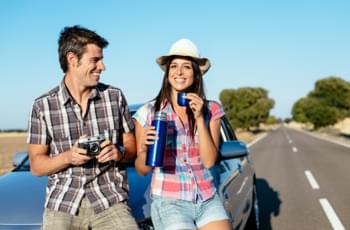 Waar op Mallorca huur je een auto?
Heb je je vlucht en accommodatie los van elkaar geboekt? Dan is het het makkelijkst om je huurauto op te pikken op Mallorca airport. Deze luchthaven bevindt zich ten zuidoosten van de hoofdstad van het eiland: Palma de Mallorca. Het centrum van Palma bereik je vanaf het vliegveld na slechts 10 kilometer. Mallorca airport is te bereiken via afslag 7 op de snelweg Ma-19. Heb je een pakketreis geboekt waarbij een transfer naar de accommodatie is inbegrepen? Dan kun je de huurauto gewoon ophalen bij een plaats in de buurt van je appartement of hotel. Reserveer je auto alvast online en haal hem op waar je zelf wilt. Hieronder een handig overzicht van alle punten op het eiland waar je je huurauto kunt ophalen met daarbij de afstand in minuten vanaf het vliegveld.
| Plaatsnaam | Afstand vanaf Mallorca airport |
| --- | --- |
| Airport Mallorca (Palma de Mallorca) | 0 minuten |
| Paguera | 30 minuten |
| Alcudia | 50 minuten |
| Cala Mandia | 55 minuten |
| Cala d'Or | 55 minuten |
| Can Picafort | 55 minuten |
| Cala Millor | 60 minuten |
| Sa Coma | 60 minuten |
| Cala Ratjada | 70 minuten |
Een huurauto die bij jou past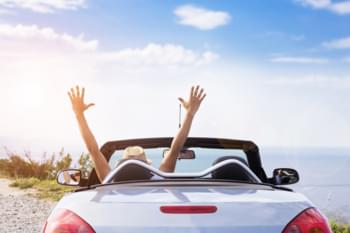 Reis je met zijn tweeën of ga je op stap met een groter gezelschap? Afhankelijk van je reisgezelschap zoek je natuurlijk een auto die daarbij past. Verder zijn er misschien nog wel andere eisen die jij stelt aan een auto. Zo is een airco niet geheel onbelangrijk tijdens een vakantie op Mallorca. Een handig overzicht toont alle soorten auto's die beschikbaar zijn waarbij je onder andere kunt filteren op verschillende specificaties en type voertuigen. Je sluit tevens gemakkelijk online een verzekering af. Zo heb je alles in één klap geregeld en hoef je eenmaal aangekomen op plek van bestemming alleen nog maar te genieten.
Toeren over het eiland
Mallorca is het grootste eiland van de Balearen. Die auto heb je dus wel nodig wanneer je geen enkele hotspot wilt overslaan. Want al staat Mallorca onder jongeren bekend als party bestemming heeft dit eiland veel meer te bieden dan El Arenal en cocktails. De hoofdstad Palma de Mallorca bruist van de historie. Stap je auto uit en wandel door de smalle straatjes met pittoreske huisjes of strijk neer op een terrasje voor een verkoelend drankje. In Palma vind je tevens de La Seu kathedraal, een imposant en mega groot bouwwerk. Een absolute must do is daarnaast het eeuwenoude treintje dat je vervoert van Palma naar Sóller. Sóller is een gezellig, klein plaatsje om te bezoeken maar de treinreis zelf is eigenlijk nog veel mooier. De route leidt je dwars door de bergen en zet je na een stop in Sóller gewoon weer af in Palma de Mallorca. Zo stap je vanuit daar meteen weer terug je huurauto in op weg naar de volgende bestemming.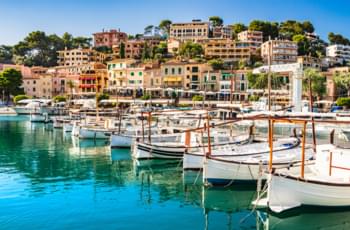 De stad Port de Soller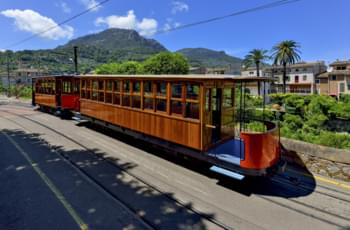 De trein in Soller
Handige verkeerstips op Mallorca
Op Mallorca vind je goed aangelegde wegen en wordt alles duidelijk aangegeven met verkeersborden. Toeren van plek naar plek is een makkie want na een paar uur heb je al door hoe het wegennetwerk in elkaar zit en kun je die navigatie achterwege laten. Let er wel op dat openbaar vervoer te allen tijde voorrang heeft en dat het dragen van een koptelefoon in de auto verboden is. Borden met daarop "Ceda el Paso" geven aan dat je voorrang moet verlenen. Ben je van plan om met je huurauto te toeren door de bergen? Claxonneer dan wanneer je eraan komt op een onoverzichtelijke weg. Dit is verplicht!