Auto huren op Lanzarote
Het Spaanse Lanzarote ontdekken met de auto. Het hele jaar lekker weer dankzij de ligging van dit eiland nabij Marokko. Toeren door de bergen en uitkomen bij de magische maanlandschappen van dit vulkanische eiland. Spaanse tapas en verse vis direct uit zee, op en top genieten doe je op Lanzarote.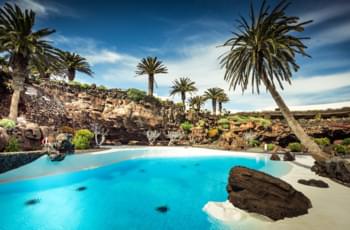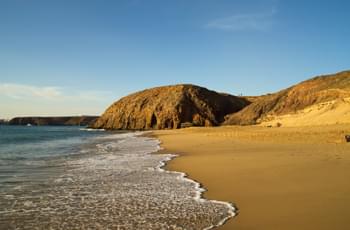 Reserveer vooraf een auto op Lanzarote Airport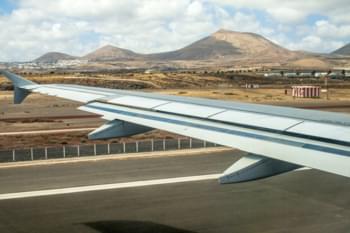 Na een vlucht van zo'n 4,5 uur zet je voet op Spaanse bodem en kan de vakantie echt beginnen! Zoeken naar een taxi of bus die je naar je accommodatie vervoert is niet nodig want je kunt voor je vertrek een huurauto reserveren die vervolgens keurig op je staat te wachten bij aankomst. Lanzarote Airport wordt ook wel Luchthaven Arrecife genoemd en bevindt zich dan ook op 5 kilometer afstand van de gelijknamige plaats Arrecife. Je vooraf gereserveerde auto kun je ook oppikken in Puerto del Carmen, San Bartolomé of Puerto Calero.
Kies en vergelijk
Een huurauto die klaarstaat op het tijdstip dat jij landt is natuurlijk super fijn. Maar waarschijnlijk heb je ook enkele wensen. Ga je op reis met meer dan twee personen, dan wil je dat er ook achterin voldoende ruimte is. Op Lanzarote is de temperatuur daarnaast het gehele jaar zeer aangenaam dus ook een airco is in de meeste maanden geen overbodige luxe. Ook extraatjes als een kinderstoel kun je gewoon vooraf reserveren. Na het invoeren van je wensen kun je de keuze maken voor een auto die het beste bij jou past. Ideaal!
Verken Lanzarote met je huurauto
Lanzarote is het meest noordelijke eiland van de Canarische eilanden en is hemelsbreed gezien 60 kilometer lang. Geen heel groot eiland maar daarom des te leuker om te verkennen met de auto. Verdwalen is moeilijk dus stap gewoon in en kijk waar je uitkomt. Je zult versteld staan van wat je onderweg ziet. Een lange kuststrook met donkere zandstranden en een sprookjesachtig binnenland. Alle huizen op dit eiland zijn wit en maximaal vier verdiepingen hoog. Parkeer je huurauto minimaal één keer om te struinen langs de schilderachtige huisjes. Een ware must see is daarnaast Jardin de Cactus een tuin vol cactussen! Bezoek dit hoogtepunt bij voorkeur aan het begin van de dag om massa's toeristen te omzeilen. De dag sluit je af op het mooiste strand van het eiland: Papagayo Beach. Het strand met helder blauw water is omgeven door lavagesteente waardoor er in feite meerdere kleine strandjes worden gevormd.
Wat zijn de populairste vakantiebestemmingen op Lanzarote?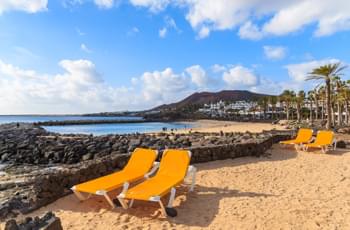 Playa Blanca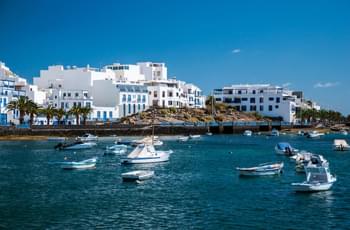 Arrecife
Op dagtrip naar Nationaal Park Timanfaya
Lanzarote is een vulkanisch eiland, dus een bezoekje aan dit maanlandschap dat is ontstaan door vroegere vulkaanuitbarstingen mag natuurlijk niet uitblijven. Vanuit de toeristische plekken op het eiland is het zo'n 30 minuten rijden, maar de rit alleen al is zo mooi dat je deze het beste met je huurauto kunt afleggen. Onderweg stoppen bij één of twee plekken is een echte aanrader. Salinas de Janubio met haar prachtige zoutvlaktes is bijvoorbeeld een zeer fotogeniek plekje. De zoutvlaktes zijn namelijk vrolijk gekleurd, hoe bijzonder! Parkeer je auto vervolgens nog even bij Lago Verde, oftewel het groene meer. De bijzondere kleur van het meer wordt veroorzaakt door algen en bestaat deels uit water afkomstig uit de vulkaan. Bij Nationaal Park Timanfaya vind je een grote parkeerplaats waarvandaan je direct in de bus stapt die je meevoert door het Nationaal Park. Dit beschermde gebied is namelijk niet toegankelijk voor auto's.
Veilig op de weg op Lanzarote
Op Lanzarote gelden dezelfde verkeersregels als in Nederland. Daarnaast vind je er een goed wegennetwerk dus autorijden op dit eiland zal al snel vertrouwd voelen. Krijg je op Lanzarote een boete voor bijvoorbeeld te hard rijden? Dan dien je deze direct, handje contantje, te betalen aan de politie. Gooi nooit een sigaret uit het raam want hiervoor krijg je op Lanzarote ook een boete.