All-in auto huren in Nice
Als je op vakantie gaat, wil je natuurlijk dat alles goed geregeld is. Het reserveren van een comfortabele en veilige huurauto hoort daar absoluut bij. Wil je voor jouw vakantie in Nice een huurauto reserveren dan kan dat heel eenvoudig voorafgaand aan je reis. Er zijn altijd verschillende huurauto's beschikbaar voor een gunstige prijs zodat je precies de auto uit kunt kiezen die is afgestemd op jouw wensen. Naast de mondaine stad Nice zijn er ook andere leuke steden en dorpen te bezoeken aan de Côte d'Azur. Als je een auto huurt, heb je alle mogelijkheden om de prachtige omgeving in en rondom Nice te verkennen.
Van Nice Airport naar je bestemming
Nice Côte d'Azur Airport is de belangrijkste luchthaven voor bezoekers van de Côte d'Azur. De luchthaven ligt ongeveer 7 kilometer ten westen van Nice en heeft twee terminals die gratis bereikbaar zijn via shuttlebussen. Aangekomen op het vliegveld wil je natuurlijk zo snel mogelijk en in alle comfort afreizen naar jouw vakantieverblijf. Huur een auto en geniet van de schilderachtige kustwegen met uitzicht op de witte stranden en azuurblauwe Middellandse Zee. Reis op jouw eigen tempo en maak af en toe een tussenstop om van het adembenemende uitzicht te genieten.
Ontdek het mondaine Nice
Nice staat bekend om haar aangename mediterrane klimaat, de prachtige stranden en natuurlijk de bekende Promenade des Anglais. Behalve de chique hotels en de mondaine sfeer heeft Nice ook een oude haven, gezellige smalle straatjes en authentieke markten voor een heerlijke wandeling. In de gezellige restaurantjes kun je proeven van lokale producten en 's avonds bruist de stad met sfeervol verlichte terrasjes. Ook als je van musea houdt kun je in Nice je hart ophalen. Neem een kijkje in het Musée d'Art Moderne et d'Art Contemporain (MAMAC) en bewonder de veelzijdige kunstcollectie: van Nouveau réalisme tot PopArt. Aanrader is ook om tijdens je bezoek aan dit museum het dakterras op te gaan. Vanaf hier heb je namelijk een sensationeel uitzicht over de stad Nice.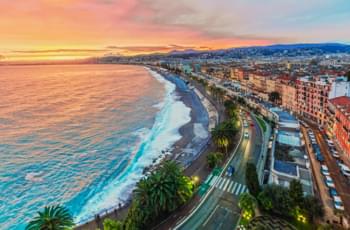 Promenade des Anglais, Nizza
Uitzicht op Nice
Ontdek de Côte d'Azur met de huurauto
Het handige van een huurauto is dat je je vrij kunt bewegen en makkelijk spontane tochtjes kunt maken. Monaco ligt bijvoorbeeld maar twintig kilometer ten oosten van Nice. Monaco is een schitterende stad bekend van Formule 1 races, het beroemde casino en de dure hotels. Ook steden als Saint-Tropez en Cannes kun je makkelijk bezoeken. Maak optimaal gebruik van jouw huurauto en organiseer de leukste dagtrips. Zin een rustige dagje aan het strand? Reis dan af naar Juan-les-Pins. Deze gezellige badplaats met prachtig zandstrand ligt op ongeveer 20 km afstand van Nice. Met de huurauto kun je de hele kustlijn van de Côte d'Azur ontdekken via de meest charmante kronkelwegen omringd met oleanders en palmbomen.
Tanken en tol in Frankrijk
In Frankrijk schommelen de brandstofprijzen enorm. Je kunt het beste bij de grotere supermarkten oftewel de zogeheten hypermarchés tanken. Het scheelt echt enorm in prijs. Langs de snelwegen vind je veel tankstations die vierentwintig uur per dag open zijn. Ook in de dorpen zijn tankstations te vinden, maar deze zijn wel een stuk duurder en hebben beperkte openingstijden. Er zijn gelukkig tegenwoordig steeds meer onbemande tankautomaten waar je eenvoudig kunt tanken met een creditkaart.
Reis je een stuk over de snelweg of wil je ook een uitstapje maken wat meer in het binnenland van de Côte d'Azur? Check dan vooraf even of je tijdens je route over een van de tolwegen komt. Zo kom je niet voor onverwachte kosten te staan tijdens je uitstapje. Ook kun je de tolwegen vaak makkelijk vermijden. Zeker als je geen lange afstanden hoeft te rijden, is het een aanrader om te kijken of er een alternatieve route beschikbaar is. Zo bespaar je weer wat geld voor een extra drankje op het terras.