Ontdek Milaan met een huurauto
Milaan is de stad van schoonheid, stijl en design. Deze prachtige modestad met schitterende gebouwen, drukbezochte pleintjes en mondaine sfeer is ideaal voor het maken van een citytrip. Of je nu met je gezin op reis gaat of met z'n tweetjes, met een huurauto kun je je gemakkelijk verplaatsen in Milaan en omgeving. Paradeer over de piazza del Duomo met haar prachtige zuilengalerijen of bezoek een van de sfeervolle terrasjes voor een romige cappuccino met een zalig stuk tiramisu. Neem alle tijd om deze indrukwekkende stad te leren kennen, maar ga zeker ook op verkenning in de omgeving. De mooiste steden en dorpen zijn binnen handbereik met een huurauto.
Huurauto bij de luchthaven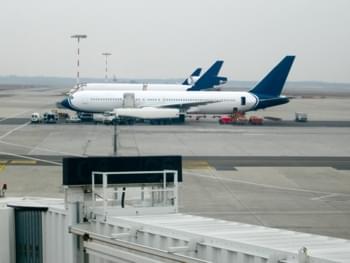 Gelegen aan de westkant van Milaan ligt het internationale vliegveld "Malpensa International Airport" ook bekend als "MXP". Vanuit de luchthaven kun je met een huurauto ontspannen en comfortabel naar jouw plek van bestemming afreizen. Reserveer eenvoudig online de huurauto van jouw keuze en je vakantie kan beginnen. Na een vliegreis en bijbehorende wachttijden is niets zo fijn als zo vrij als een vogeltje in jouw huurauto stappen om je reis in alle rust te vervolgen. Onderweg kom je typisch Italiaanse dorpen tegen die zeker uitnodigen voor een tussenstop. Je kunt heerlijk op jouw eigen tempo de reisroute bepalen. Dankzij de handige navigatie vind je makkelijk de weg en kom je uitgerust aan bij jouw vakantieverblijf.text here
Citytrip naar Milaan
De historische binnenstad van Milaan heeft qua bezienswaardigheden ontzettend veel te bieden. Voordeel is dat je bijna overal in het centrum kunt parkeren. Je kunt gratis parkeren in de wit gemarkeerde parkeerzones. Let op: in de blauwe zones is het betaald parkeren. Een van de mooiste bezienswaardigheden in Milaan is het prachtige plein piazza del Duomo waar je de indrukwekkende kathedraal van Milaan kunt bezichtigen. Deze Duomo Santa Maria is een van de grootste kathedralen van de wereld. Ook een aanrader is Castello Sforzesco, een prachtig kasteel waarin verschillende musea zijn gehuisvest. Je kunt er onder meer genieten van de schitterende kunstcollectie van Michelangelo en Leonardo da Vinci. Ook kun je deze modestad natuurlijk niet verlaten zonder hier gewinkeld te hebben. Gelukkig hoef je niet van winkel naar winkel te sjouwen met je zware tassen. Deze leg je namelijk gewoon in de huurauto tussen het winkelen door.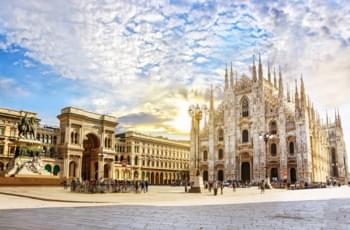 Duomo di Milano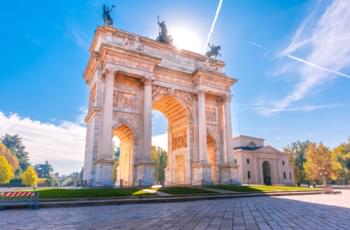 Arco della pace, Milaan
Uitstapjes met een huurauto in de omgeving van Milaan
In Milaan zijn ontzettend veel mooie toeristische bezienswaardigheden, maar met de huurauto kun je nog veel meer van de omgeving ontdekken. Wist je dat je binnen anderhalf uur al heerlijk kunt zonnebaden aan het Comomeer? En ook steden als Verona zijn eenvoudig te bereiken. Hier kun je het balkon van Julia bezoeken uit het romantische Shakespeare toneelstuk: Romeo en Julia. Of maak een uitstapje naar het prachtige Parma. Deze stad is niet alleen bekend vanwege haar beroemde Italiaanse ham, je kunt er ook het museum Palazzo della Pilotta bezoeken met een historische bibliotheek en prachtig theater. Reis je 40 km ten oosten van Milaan dan kom je in het mooie Bergamo terecht. Een Middeleeuwse stad vol Romeinse en Keltische invloeden. Al deze prachtige steden zijn eenvoudig te bereiken met een huurauto. Bekijk welke huurauto het beste bij jouw reisgezelschap past en profiteer van de voordelige tarieven.
Ciao Italia
Als je op vakantie naar Italië gaat, dan weet je dat de meerderheid van de bevolking hier Italiaans spreekt. Al merk je dat er in de grote steden af en toe een woordje Engels wordt gesproken, het is zeker geen verkeerd idee om een woordenboekje mee te nemen. Hieronder zetten wij vast een aantal handige woorden voor je op een rij:
| Buongiorno | Goedemiddag |
| --- | --- |
| Buonasera | Goedenavond |
| Prego | Alsjeblieft (wanneer iets geeft) |
| Mi scusi | Sorry |
| Che ora fa? | Hoe laat is het? |
| Fare una prenotazione | Een reservering maken |
| Puoi parlareinglese? | Kunt u Engels praten? |
| Bancomat | Pinautomaat |
| Aperto | Open |
| Chiuso | Gesloten |