Auto huren in Lissabon
De hoofdstad van Portugal, Lissabon heeft alles te bieden wat je van een citytrip verwacht. Historische gebouwen, heerlijke restaurants waar je de beste visgerechten eet en de allerleukste winkelstraten ooit! Een huurauto brengt je gemakkelijk en snel bij elke highlight van deze stad. Toe aan een dagje strand? Stap in de auto en ga naar Cascais, het strand hier is zelfs populair onder locals.
Je huurauto staat voor je klaar op Lissabon Airport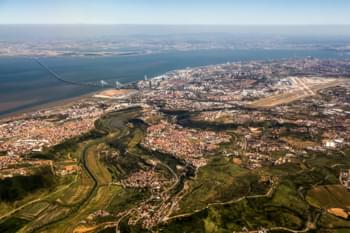 Lissabon van bovenaf
Lissabon beschikt over een eigen luchthaven, Lissabon Airport. Het vliegveld is makkelijk te bereiken via de snelweg E1, neem hiervoor afslag 2 of 3. Wanneer je vooraf online een huurauto reserveert staat deze nadat je bent geland gewoon op je te wachten. Vanaf het vliegveld sta je met de auto binnen een kwartier in het centrum van Lissabon. Wel zo fijn dat je snel in je accommodatie bent na een vlucht. Spullen droppen en meteen de stad verkennen.
Kies een auto die bij jou past
Afhankelijk van je reisgezelschap, budget en wensen ben je op zoek naar een huurauto die bij jou past. Na het intypen van je aankomst- en vertrekdatum kun je de keuze maken uit verschillende auto's in verschillende prijsklassen. Kies jij voor een budgetvriendelijke optie zoals een fiat panda of volkswagen up of rijd jij liever rond in een cabrio. De keuze is aan jou!
Verken Lissabon
Breng een bezoek aan Castelo de São, een kasteel dat bestaat uit maar liefst 18 torens en nog stamt uit de 6e eeuw. Vanaf de top van het kasteel heb je een prachtig uitzicht over de stad Lissabon. Tip: bezoek Castelo de São in de avond, dan is het prachtig verlicht! Met de huurauto kom je overal, maar ruil deze toch een keer in voor het openbaar vervoer. Een ritje in de wereldberoemde tram 28 mag namelijk niet ontbreken tijdens jouw citytrip in Lissabon. De tram voert je door de oude wijken van de stad, prachtig! Enkele kilometers buiten Lissabon vind je Cascais, en hotspot voor zowel surfers als locals. Durf jij je te wagen aan deze watersport?
Op dagtrip naar Sintra
Het grote voordeel van het huren van een auto is natuurlijk dat je kunt gaan en staan waar je wilt. Je hoeft geen enkel stukje Lissabon over te slaan want je bereikt elke plek op een makkelijke en snelle manier. Maar ook rondom Lissabon vind je plaatsen die meer dan de moeite waard zijn. Heb je tijd? Trek dan zeker een dag uit om Sintra te bezoeken. Dit pareltje van een stad staat op de UNESCO-werelderfgoedlijst en wij snappen wel waarom! Fan van geschiedenis en cultuur? Dan ben je hier helemaal aan het juiste adres. Historische gebouwen, paleizen en prachtige tuinen: Sintra is een en al historie! Het middelpunt van het stadje herken je aan de top van Palacio Nacional dat overal met kop en schouders bovenuit steekt. Een kijkje nemen in dit paleis is een absolute aanrader.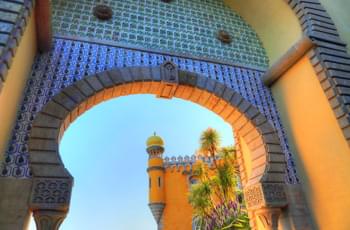 Sintra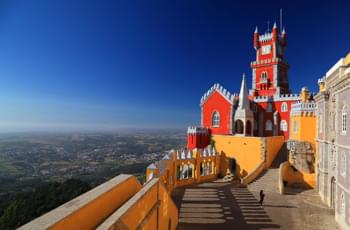 Het Nationaal Paleis
Het verkeer in Lissabon
Verkeer van rechts heeft voorrang evenals verkeer dat al op een rotonde rijdt. Kortom, alles werkt zoals je dat gewend bent. De Portugese politie kan echter streng zijn. Krijg je bijvoorbeeld een boete? Dan mag je deze direct betalen. Houd je dus goed aan de verkeersregels. Rijd nooit met oortjes in en houd je mobiel niet in je handen, zelfs als je deze verder niet gebruikt. Verder is het in Portugal, evenals in veel andere Zuid-Europese landen, verplicht om een veiligheidshesje en een gevarendriehoek bij je te hebben. Even controleren of deze aanwezig zijn in de huurauto voordat je wegrijdt dus. Voor de maximale toegestane snelheid per uur geldt: binnen de bebouwde kom maximaal 50 km/h, buiten de bebouwde kom maximaal 90 km/h en op snelwegen rijd je maximaal 120 km/h. Tip: tank bij een benzinepomp bij een grote supermarkt, dit kan je veel geld besparen.