Verken de Algarve met je huurauto
Jouw vakantie aan de Algarve begint hoe dan ook in Faro. Of je hier nu alleen landt of ook een of meerdere dagen verblijft, Faro vormt het startpunt van jouw reis. Laag overvliegende vliegtuigen, de mooiste natuurparken of winkelen in de oude binnenstad. In je huurauto ontdek je alle kanten van Faro. Meteen doorrijden naar een bestemming als Albufeira, Lagos of Praia da Rocha kan natuurlijk ook!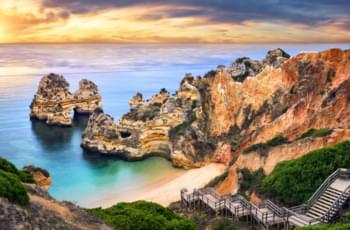 Strand in Lagos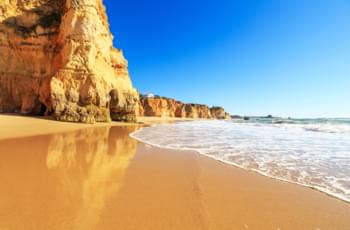 Praia da Rocha
Reserveer je huurauto vooraf op Faro Airport
Faro airport is dé luchthaven van de Algarve, de bekendste vakantieregio van heel Portugal. Faro airport bevindt zich op 7 kilometer afstand van het centrum van de gelijknamige stad: Faro. In het Portugees staat de luchthaven bekend als Aeroporto de Faro. Rechtstreeks vanuit het vliegtuig de huurauto instappen om de Algarve te verkennen? Regel dit nog voor je vertrek. Hoe eerder je je huurauto reserveert hoe voordeliger je uit bent. Lang voor je vertrek kun je namelijk nog huurauto's van verschillende aanbieders vergelijken in onder andere prijs. Heb je al een transfer naar je accommodatie? In vele toeristische plekken in de Algarve kun je je huurauto oppikken. Enkele bekende plaatsen waar dit mogelijk is? Albufeira, Tavira, Lagos en Alvor.
De volgende huurauto's zijn beschikbaar op Faro Airport:
Alamo
CarDelMar
Dollar
Enterprise
Europcar
Hertz
Thrifty
TuiCars
De mooiste stranden!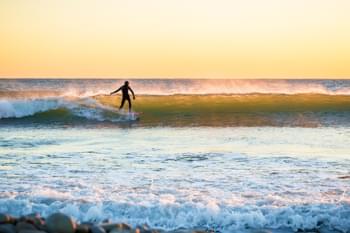 De beste manier om de Algarve te ontdekken is toch echt met de auto. Deze regio beschikt namelijk over meer dan 150 stranden die ieder uniek zijn op hun eigen manier. Ja, echt! Die stranden in de Algarve zijn echt adembenemend mooi dankzij het helderblauw water en de kalkstenen rotsformaties die verschillende kleuren aannemen. Waar sommige stranden ware surf hotspots zijn kun je op andere stranden snorkelen als de beste. Parkeer je huurauto zeker in de buurt van Ponta da Piedade in Lagos, een van de mooiste stranden van de Algarve. Rotsformaties in zee, grotten en een prachtig zandstrand dat je kunt bereiken door middel van een steile trap. Toe aan een adrenalineboost en wat actie? Rijd dan naar Sagres, het surfparadijs van Portugal. Want hier vind je de beste golven.
Ontdek Faro met Huurauto
De Algarve mag dan bekend staan om haar prachtige stranden, deze regio heeft veel meer te bieden. Stap die huurauto in en trek erop uit van plek naar plek. Historische steden met pleintjes waar je uren mensen kunt kijken, straatjes met schilderachtige huizen en vissersdorpjes waar de tijd haast stil lijkt te staan. Plan van tevoren wat je allemaal wilt zien en stippel de route die je wilt gaan afleggen met je huurauto vast in grove lijnen uit. Zo voorkom je dat je jouw persoonlijke must-sees overslaat. Rijd bijvoorbeeld naar Lagos en doe onderweg wat kleinere plaatsjes aan. Vergeet ook niet te stoppen op wat uitkijkpunten, want ook de natuur is beeldschoon in en rondom Faro. Een klein pittoresk plaatsje dat favoriet is onder velen? Tavira! Deze plek bruist van de geschiedenis, je vindt hier maar liefst 20 kerken. Vanuit Faro is het ook de moeite waard om een dagtocht te maken met een huurauto naar Malaga. Het is erg populair bij Nederlandse vakantiegangers om een auto te huren in Faro en deze terug te brengen na een road trip in Lissabon. Bij Zoover vindt u vele geschikte aanbiedingen. Gebruik gewoon ons prijsvergelijkingsformulier om prijzen te vergelijken
Op culinaire roadtrip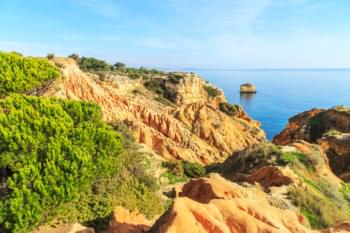 De omgeving van Faro
Dat Faro en de Algarve zeer veelzijdig zijn moge duidelijk zijn. Na een dag toeren langs de mooiste stranden, plaatsen en stukjes natuur rijd je door naar een gezellig restaurantje waar je geniet van lokale specialiteiten. De streek staat bekend om haar gerechten bereid met schelpdieren die rechtstreeks uit de zee komen. De pittige stoofschotel "ameijoas na cataplana" moet je gewoon proberen! Verse koriander maakt dit gerecht helemaal af.
Handige verkeerstips
Iedereen met een Nederlands rijbewijs stapt zonder moeite een huurauto in want in Portugal gelden dezelfde verkeersregels als in Nederland. Wel rijden ze in Portugal net wat harder dan toegestaan is. Om een boete te voorkomen houd je je in dorpen en steden aan een maximumsnelheid van 50 km/h, op de snelweg is de maximumsnelheid altijd 120 km/h. Op de meeste snelwegen moet je tol betalen. Wanneer je er met je huurauto op uittrekt binnen de Algarve zal dit trouwens reuze meevallen. Besluit je wat meer van Portugal te ontdekken dan kan de tol aardig oplopen.