Wat kost een huurauto op Curacao?
Offertes voor huurauto's beginnen bij 25 euro per dag. De prijzen variëren echter sterk na het seizoen. De beste manier om Curaçao te verkennen is toch echt per auto. Wie ooit al eens een bezoek heeft gebracht aan dit Caribische eiland weet dat je zonder huurauto eigenlijk niet heel ver komt. Strandhoppen en toeren naar de meest prachtige onontdekte plekjes. 's Middags rijd je naar een leuk lokaal restaurantje waar je geniet van typisch Antilliaanse specialiteiten of struin je langs de pastelkleurige huisjes in Willemstad. Je huurauto brengt je overal!
Pik je huurauto op op de voor jou meest handige plek
De makkelijkste plek om een auto te huren op Curacao is op het vliegveld: Curaçao international airport. De luchthaven van Curaçao bevindt zich op zo'n 12 kilometer vanaf Willemstad, in het Noorden van het eiland. Curaçao international airport staat ook wel bekend als Aeropuerto Hato of Hato airport. Stap vanuit het vliegtuig zo je huurauto in en vertrek meteen naar je hotel. Het makkelijkst is om voor je vertrek al een auto te huren. Zo ben je verzekerd van een voordelige prijs en een auto die bij jou past. Wil je pas een auto huren enkele dagen na aankomst? Je kunt jouw huurauto ook ophalen in Willemstad. Er zijn op deze locatie twee ophaalpunten: Willemstad zelf en in de wijk Otrobanda.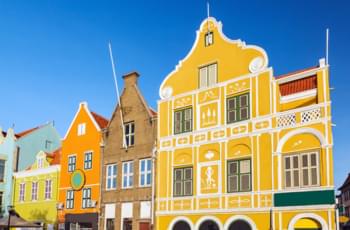 Willemstad Curaçao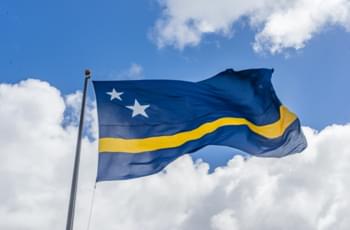 Flagge Curaçao
Ontdek de mooiste stranden op Curaçao
Curaçao telt zo'n 40 stranden. Waar de een heel goed te bereiken is, is de ander een verborgen pareltje. Met een huurauto is het bereiken van deze verborgen pareltjes geen enkel probleem. Gezien het grote aantal stranden op het eiland is een of meerdere dagen strandhoppen een heel goed idee. Sla zeker de meest bekende stranden niet over. Dompel je onder in luxe (en heel veel gezelligheid) in de Jan Thiel baai of strijk neer op het uitgestrekte zandstrand bij Grote Knip. Stap vervolgens weer in de auto en bereik via een zandweg omgeven door cactussen Porto Marie. Met zekerheid een van de mooiste stranden van heel Curaçao te noemen. Dit strand staat bekend als een hotspot onder duik- en snorkelliefhebbers.Curacao is het naburige eiland Aruba.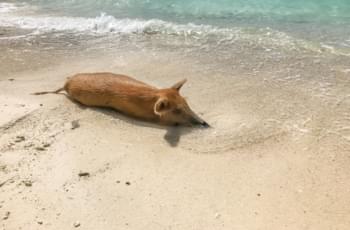 Porto Marie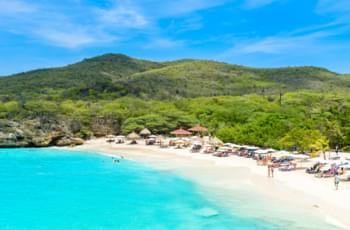 Grote Knip
Van plek naar plek
Curaçao heeft natuurlijk meer te bieden dan bounty stranden. Verken daarom ook zeker het binnenland van het eiland met je huurauto. De wereldberoemde Handelskade in Willemstad dat deel uitmaakt van de UNESCO Werelderfgoedlijst mag je natuurlijk niet overslaan. Breng wanneer je in Willemstad bent ook zeker een bezoek aan de drijvende markt waar je kennis maakt met de lekkerste lokale gerechten. Daarnaast een echte must do? Een bezoekje aan de Aloë Vera plantage. Producten met Aloë Vera zijn werkelijk waar overal op het eiland te vinden en zijn ideaal wanneer je bent verbrand. Altijd al eens willen zwemmen met dolfijnen? Toer met je huurauto naar het Sea Aquarium! Naast zwemmen met dolfijnen spot je hier haaien en walvissen.
Het verkeer op Curaçao
Autorijden in een ander land, of op een eiland in dit geval, is vaak toch net even wat anders dan in Nederland. Het scheelt dat de verkeersregels hier vrijwel hetzelfde zijn als bij ons, je bevindt je tenslotte ook op de Nederlandse Antillen. Rechts heeft voorrang en rijden doe je ook gewoon aan de rechterkant van de weg. Een kleine kanttekening is wel dat ze het op Curaçao toch net wat minder nauw nemen met die verkeersregels. Kijk er dus niet raar van op als voorrang niet verleend wordt en het soms een chaos is op de wegen. Daarnaast is het op Curaçao ook geen enkel probleem om iemand van rechts in te halen, kijk hier dus niet raar van op. Zolang je rustig blijft en goed op blijft letten is er niets aan de hand en kan iedereen (ja, echt) auto rijden op dit zonovergoten eiland. Is iemand zo aardig om je bijvoorbeeld voor te laten? Claxonneer dan in plaats van dat je je hand opsteekt. Op Curaçao is dit een gewoonte.