Eenvoudig een auto huren in Cork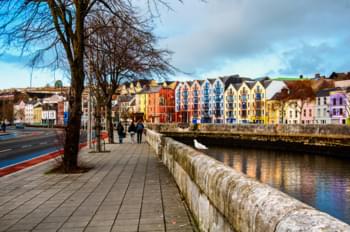 Met de huurauto naar Cork
Cork is een prachtige graafschap gelegen aan de zuidkust van Ierland. Deze historische stad ligt op een eiland ontstaan door een splitsing van de rivier de Lee. Met haar afwisselende landschap en rijke geschiedenis kun je in en nabij Cork de meest prachtige tochten met de auto maken. Huur een auto zodat je de mogelijkheid hebt om de indrukwekkende omgeving van Zuidwest-Ierland te verkennen en de leukste uitstapjes te maken. Ook als het regent zit jij lekker droog en hoef je jouw plannen in elk geval niet uit te stellen vanwege het weer. Ieren staan bekend om hun gastvrijheid en dat welkome gevoel ervaar je zeker in Cork.
Vertrek vanaf de luchthaven in jouw huurauto
De luchthaven van Cork behoort samen met Shannon en Dublin tot de drie belangrijkste luchthavens van Ierland. Vanaf de luchthaven kun je met jouw huurauto de mooiste routes kiezen om de omgeving te verkennen. Het stadscentrum van Cork ligt op ongeveer 10 minuten van de luchthaven, een mooi vertrekpunt om af te reizen naar de zuidkust van Ierland. Huur snel en makkelijk een auto en jouw zorgeloze vakantie kan beginnen. Tip: bedenk van tevoren welke uitstapjes je vanuit Cork wil gaan maken want de omgeving is zeer uitgestrekt.
Leuke bezienswaardigheden in Cork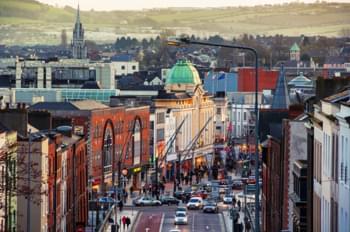 Het centrum van Cork
De gezellige winkelstraatjes en authentieke Ierse pubs geven Cork een unieke sfeer. Indrukwekkend zijn de twee grote kathedralen: St. Finbar's Cathedral en de St. Mary's Cathedral. Voor de winkelliefhebbers is St. Patrick's Street een aanrader. Dankzij jouw huurauto hoef je niet te sjouwen met boodschappen in de trein of bus, maar neem je alles makkelijk mee in de auto. Ook aan restaurants ontbreekt het zeker niet in deze gezellige stad. Geniet van een hapje en een drankje in een van de typisch Ierse pubs en sfeervolle restaurants die je terugbrengen in de tijd. Bekende gerechten van deze streek zijn bloedworst en schapenmaag. Dit eet de lokale bevolking het liefst in combinatie met het eigen gebrouwen Beamish bier. Vind je het leuk om lokale producten te leren kennen? Bezoek dan de English Market in Cork. In deze overdekte markt in Victoriaanse stijl kun je de specialiteiten van de streek proeven.
Parkeren in Cork
Cork heeft een apart parkeerbeleid. Voor parkeren in het centrum van Cork heb je een Parking Disc nodig. Deze kun je gewoon in verschillende winkeltjes in Cork zelf kopen. Het zijn een soort kraskaarten waarop tijdstippen vermeld staan. Let ook goed op de borden want vaak staat precies vermeld hoe lang je ergens mag parkeren. De huurauto kun je het beste parkeren in de Car Park aan de North Main Street dan ben je meteen in het hart van het centrum.
Nationale feestdagen in Ierland
St. Patrick's Day is dé nationale feestdag in Ierland. Op 17 maart herdenken de Ieren de beschermheilige Sint Patrick. Naast deze feestdag kent Ierland nog meer bijzondere dagen:
Nationale feestdagen
1 januari Nieuwjaarsdag
17 maart St. Patrick's Day
1 mei Dag van de Arbeid
Eerste maandag in juni: June bank Holiday
16 juni Bloomsday
Eerste maandag in augustus: August Bank Holiday
Eerste maandag in oktober: October bank Holiday
25 december Kerstmis
26 december St. Stephen's Day
Op deze dagen kan het dus drukker zijn dan gebruikelijk in het centrum van Cork of bij bijzondere bezienswaardigheden. Hou hier rekening mee bij het plannen van je trip.
Met de huurauto langs het Ierse landschap
Voor zowel de cultuur- als de natuurliefhebber is de zuidkust van Ierland een waar paradijs. Met een huurauto kom je langs de mooiste natuurgebieden met historische gebouwen en ruige landschappen. Dit typisch Ierse landschap met groene heuvels, ruige kustlijn en schilderachtige dorpjes biedt voor ieder wat wils. Je kunt kiezen uit verschillende interessante musea zoals het Butter Museum. Dit museum daterend uit 1849 en doet de geschiedenis van Ierland herleven. Je leert hier alles over de vroegere boterhandel. Een andere interessante bezienswaardigheid is de City Goals, een echte gevangenis die eruit ziet als een kasteel. Vlakbij Cork ligt het oudste kasteel van het land: Het Blarney Castle. Dit kasteel is vooral bekend om de romantische uitdaging: Kissing the Stone.
Autorijden in Ierland
Het allerbelangrijkst in het Ierse verkeer is natuurlijk dat je aan de linkerkant van de weg moet rijden. Dat zal in het begin even wennen zijn, maar wanneer je je eenmaal in het verkeer begeeft dan gaat dat heel natuurlijk. De bewegwijzering is goed aangegeven en niet alleen in het Iers maar ook in de Engelse taal. Tip: het is handig als je een auto huurt in Ierland om voor een automaat te kiezen, dan hoef je niet met links te schakelen.