Verken Aruba met de auto
Acht uur in het vliegtuig zitten, landen op een tropisch eiland en toch ben je nog in Nederland! Dan hebben we het natuurlijk over de Nederlandse Antillen. Om precies te zijn over Aruba. Dit Nederlandse pareltje is zo'n 30 kilometer lang en 10 kilometer breed en beschikt over kilometers witte zandstranden die overlopen naar de kristalblauwe zee. Met je huurauto ontdek je elke dag een andere plek. Overal waar je komt, is het zonnig en warm, net als de mensen!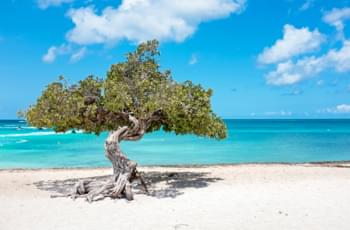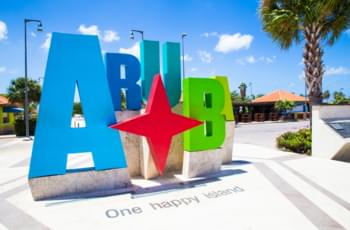 Met je huurauto de Arubaanse ku(n)st en cultuur ontdekken
In het zuidelijke en westelijke gedeelte van Aruba is het lekker levendig. Hier vind je tal van winkels, hotels, resorts én overal entertainment. Tijdens de festivals ontdek je de cultuur van de Arubanen in de vorm van dans en muziek. Of nu het Carubbian (San Nicolas), Dera Gai of Bon Bini Festival plaatsvindt, je gaat heel wat dansende en feestende Arubanen zien. Daarnaast kun je veel kleur, prachtige outfits, optredens en leuke kraampjes verwachten. Verder telt Aruba ook een aantal grote muziekfestivals waar zowel lokale als internationale artiesten optreden. Mocht je in de zomer op Aruba verblijven, dan is het Aruba Summer Festival een mooie toevoeging aan je verblijf.
Ook als er geen festiviteiten plaatsvinden, is het zeer de moeite waard om naar de verschillende stadjes te reizen. Bijvoorbeeld naar San Nicolas. In dit gezellige kustplaatsje bloeit de kunstscene namelijk steeds meer op. Kleurrijke street art siert hier de straten en in de galerijen, musea, vuurtorens en bij historische monumenten vind je objecten met een bijzonder verhaal. Tenslotte kun je hier ook heerlijk ontspannen op de mooie stranden Baby Beach en Roger's Beach. De stranden op Aruba zijn met één woord te beschrijven: wauw! Misschien de dag afsluiten met een drankje in de wereldberoemde Charlie's Bar ?
Rijden langs de ruige kustlijn en de binnenlandse zandvlaktes
Met zoveel keuze aan idyllische stranden kun je natuurlijk niet elke dag op hetzelfde strand gaan liggen. Huur een auto en toer over het eiland, op zoek naar de mooiste afgelegen plekjes. In het noorden van het eiland vind je voornamelijk een ruige kustlijn en kalkstenen kliffen waar de golven en wind tegenaan dreunen. Een heerlijk geluid! Weinig tot geen ervaring met het huren van een auto? Online kun je prijzen van verschillende aanbieders vergelijken, van te voren reserveren en zo veel goedkoper uit zijn. Wanneer je ervoor kiest om je huurauto meteen bij het vliegveld op te halen, kan je vakantie direct beginnen!
De kustlijn van het eiland is prachtig, maar rijd ook zeker door de binnenlanden. Het Nationaal Park Arikok ligt hier op je te wachten. Het is het leefgebied van vele diersoorten, waaronder leguanen en kleurrijke vogels. Van droge rivierbeddingen, mega grote cactussen. grotten en rotsformaties, tot afgelegen baaien (Dos Playa!), hier kom je het tegen. De ingang van het park bevindt zich aan de San Fuego 70.
Aruba Arikok Nationalpark
Jij bepaalt! Waar rijd jij naartoe?
Het voordeel van een huurauto is dat je kan gaan en staan waar en wanneer je maar wilt. Daarnaast ben je niet gebonden aan openbaar vervoer en zie je veel meer in korte tijd. Tenslotte houd je het niet alleen bij de standaard bezienswaardigheden, maar ontdek je sneller minder toeristische plekjes. Kortom, je krijgt een vollediger beeld van het eiland. Daarentegen zijn een paar ''standaard'' dingen wel echt de moeite waard. Een bezoekje aan de hoofdstad Oranjestad hoort bijvoorbeeld wel bij een bezoek aan Aruba. Oranjestad is kort gezegd een mix van vrolijke kleuren, Caribische accenten, luxe winkels, gave clubs, gezellige restaurants en achttiende eeuwse panden. Hier verveel je je nooit! Andere tips voor op je to-do en to-see list: de rifeilandjes voor de westkust, de struisvogelboerderij en de ezelopvang!